Frustrated with managing your bar?
Managing a bar can be time consuming and overwhelming at times.
How do you keep track of all the details?
How do you know where you can make improvements?
Is your bar losing money?
What areas of your business are costing you the most?
Do you ever wish you had a control center for managing all aspects on your premises?
Trakbar gives you comprehensive Business Intelligence with actionable insights,
packed with features that will help you manage your business more efficiently and get you a full 360-degree view.
What is BI?
Here is a short description
Business intelligence (BI) can be described as "a set of techniques and tools for the acquisition and transformation of raw data into meaningful and useful information for business analysis purposes".

Business intelligence can provide a pro-active approach, such as alert functionality that immediately notifies the end-user if certain conditions are met. For example, if some business metric exceeds a pre-defined threshold, the metric will be highlighted in standard reports, and the business analyst may be alerted via e-mail or another monitoring service.
BI is not for me?
BI is not a tool just for big franchise chains and enterprise customers. A small neighbourhood bar can benefit from optimization and peace of mind.
Even it it just saves you a small margin or an hour from your daily workload, its an extra hour for You.
How can Trakbar help you?
Track the success of your bar from anywhere and anytime. Make smart and savvy decisions with confidence backed up with smart predictions.
With Trakbar you will know what's going on weeks ahead.
Track the actions that are making the most profit for your business as well as those that are hurting you.
Get notified on any device so you can make quick real-time decisions.

Trakbar is your premises ultimate dashboard. It provides real time information about your bar wherever you are.
Smart analytics at your fingertips, so you can improve your business.
Trakbar is:
Time Saver, Track the success of your business by seeing everything in one place.
Easy, recognise any potential threats or opportunities as they develop.
Money Saver, Track inventory, reduce overstock with just-in-time ordering. Easily recognise where you may be losing money due to over-pouring, spillage or theft.
Customisable, Track what you want, when you want. Visualise data in ways that make sense to you. You are in total control of the look and feel of our analytics.
Cloud Based, Track information from anywhere and know it is safe and secure.
Location independent, tracking of sales, customers, employees and inventory from multiple sites on one dashboard and all information in one place.
Insightful, Track long term trends regarding the success of your business so you can make insightful adjustments wherever and whenever necessary.
Actionable, Easily monitor your performance and goals. Receive notifications on email or any device so you can make quick real-time decisions.
How can I get it?
You can get started in five minutes, it works with almost any windows POS system with internet connection.
Register, install our software or connect to your cloud POS system from settings.
What is in Trakbar?
Here is Trakbars main feature list:
live data insights
weekly & monthly predictions
reports & analytics
inventory management & optimizations
smart orders
staff performance monitor
performance recommendations
custom alerts
user control
Live data insights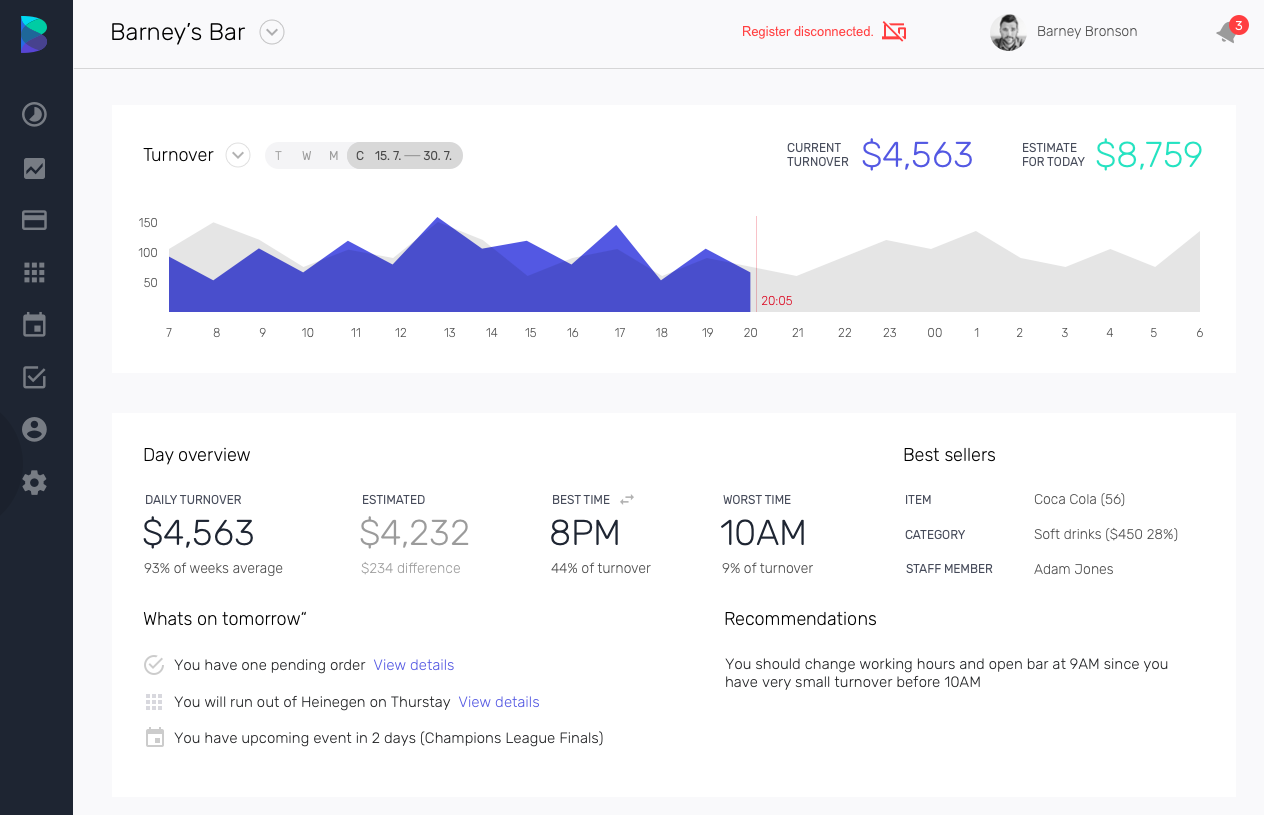 See things on your dashboard as they are happening. With Trakbar you can even see things that will happen by the end of the week, by the end of the month.
All the back office data available wherever you are, whenever you need it.Per item sales, turnover with breakdown by category or todays comparison.
After each working day you can sit down, relax and see how did your day looked like. Your dashboard will show you a nice overview and summary of things that happened.
And best of all, see what's on your plate for tomorrow with pending orders, events and alerts, so you can plan your next working day.
Weekly & monthly predictions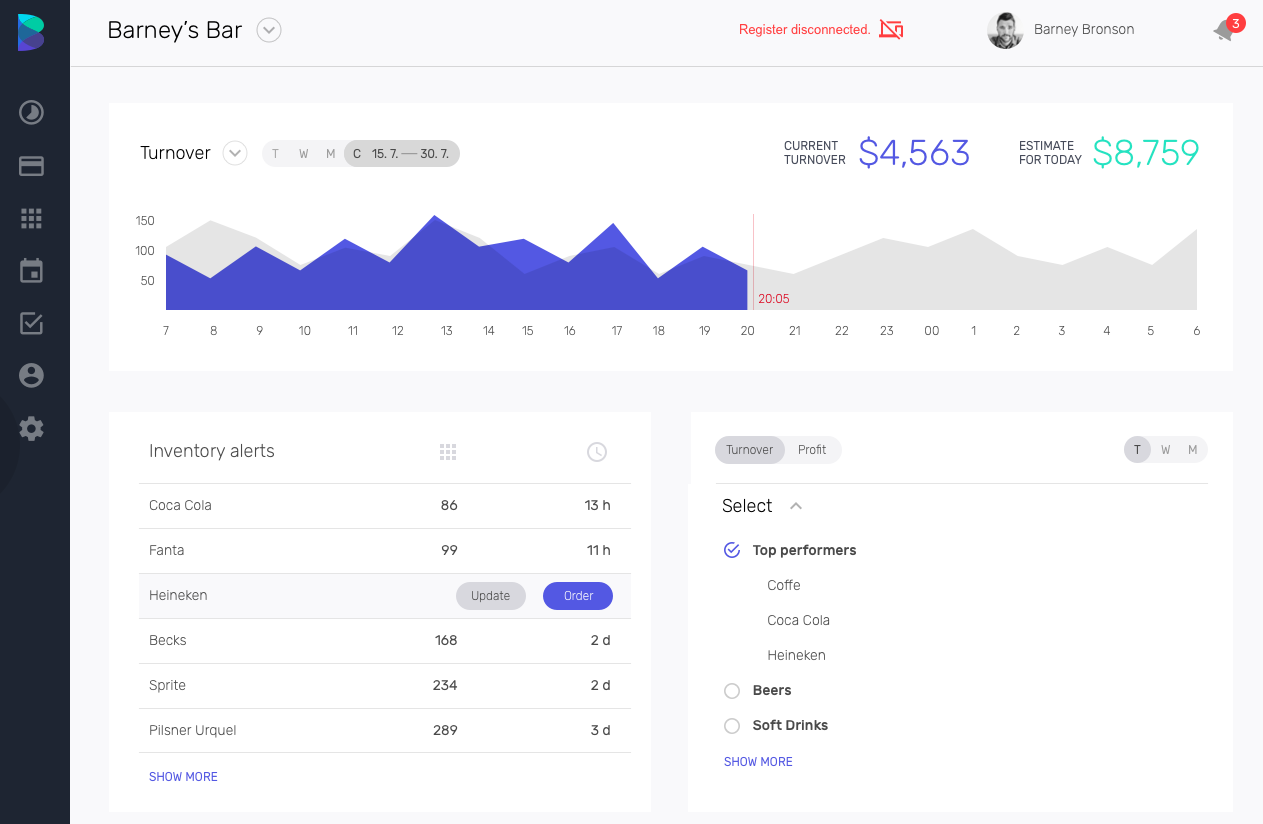 Trakbar is smart, with the help of the machine learning we can make accurate predictions for your bar weeks in advance. We take a lot of external factors into account when making our predictions to make sure we give you accurate results.
We will predict your turnover, your profit and sales of each item in your inventory so our can plan ahead. A great glimpse of what future brings.
Reports & analytics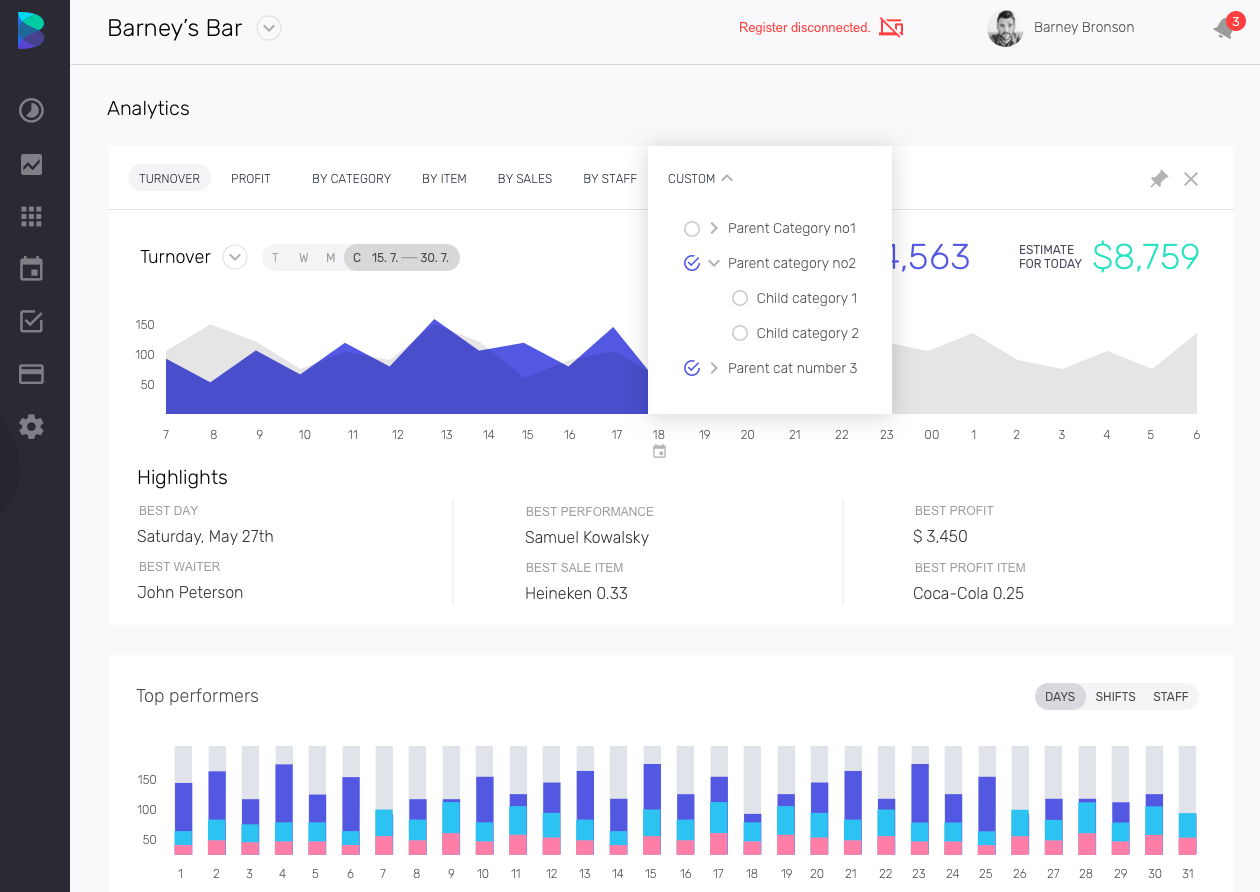 You don't have to be a data scientist to understand the data. We will do all the number crunching and present you a beautiful data visualisation of the things that are most important to you. All reports are available in real time, with "live data". No longer you have to wait for the report to be "generated"
You can filter and customise the data and report to your liking. Fancy comparing a specific item to a whole category? One shift to a whole other bar? All the combinations you want to see are possible.
Inventory management & optimizations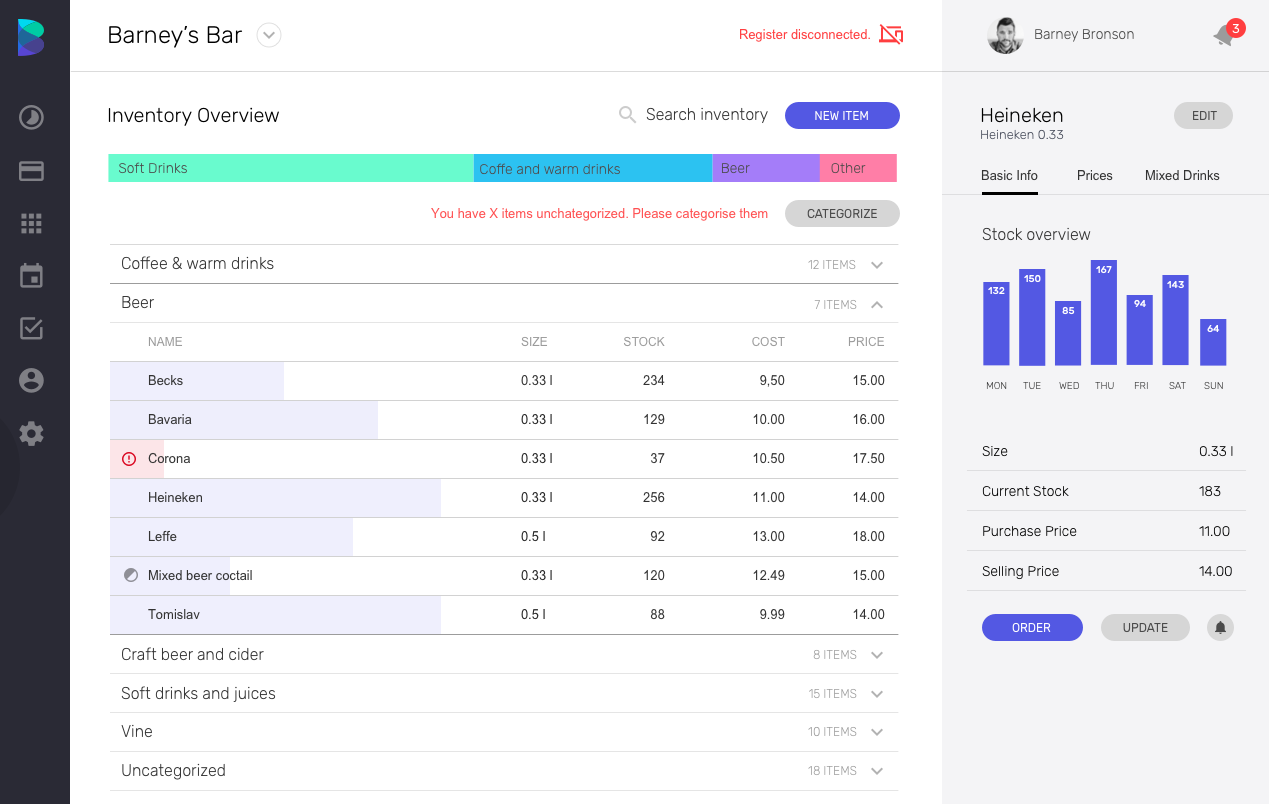 We know each bar is special. You have your own categories, naming, norms and all other small details that makes a stock list. We support it all. Set custom names, make complex drinks like cocktails and categorise them as you see fit.
We can see if you are overstocking something or that this particular brand is not profitable to keep on tap. You will get our recommendations as this things happen.
Yes, we know there will be a big football match this Sunday and you will need extra beer. Yes, we know it Summer and you don't need tea or hot beverages. That's why you have us.
Smart orders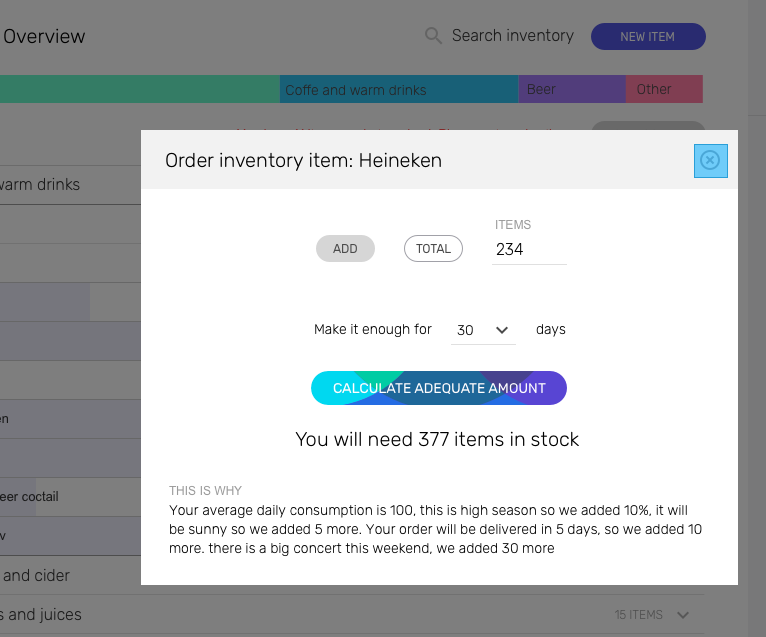 Trakbar knows how will your next week or your next month look like so you can make your orders with one simple click. Just select the number of days you want your stock to last and Trackball will magically do the rest.
If your POS systems supports it, we can send the order directly to your distributor or generate a PDF you send yourself. Of course, you can customise every order to your liking, add or remove items or alter the quantity.
Staff performance monitor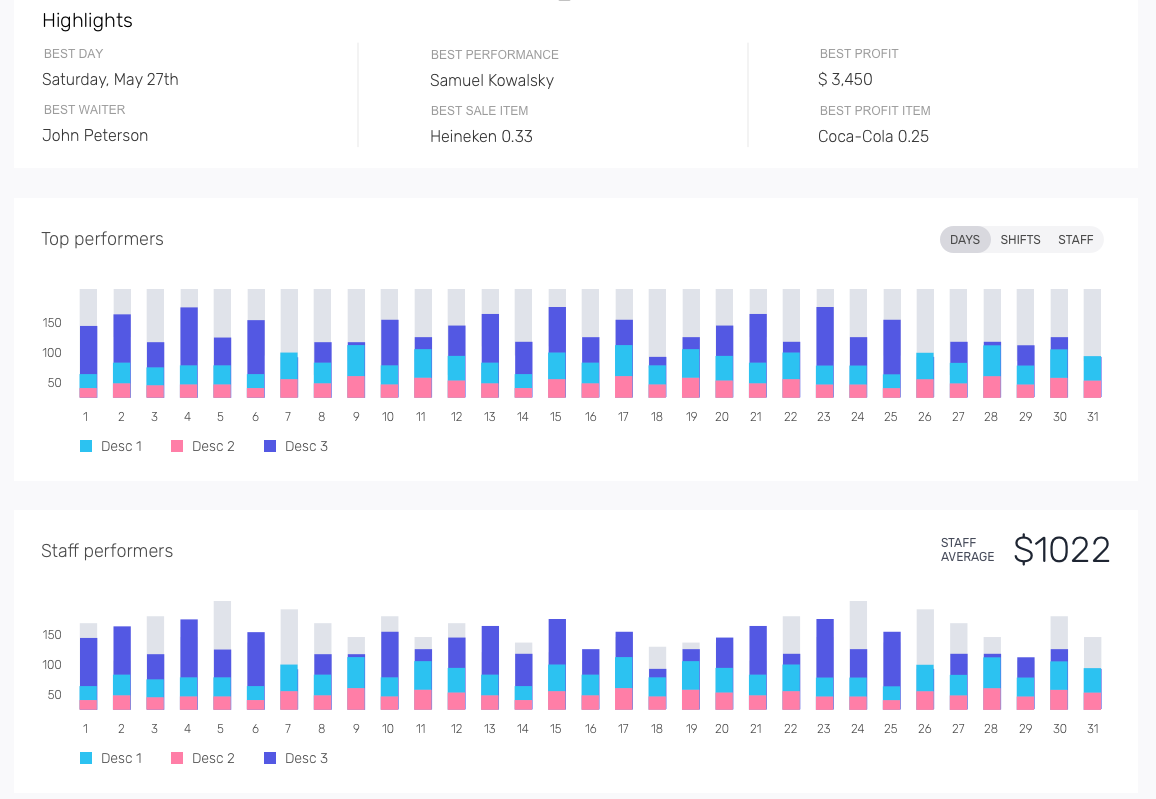 We will monitor each staff performance, no matter their work schedule. We will see who is your rising star and who is slacking. We will know who is making you the most profit and who sells the most coffee. With that much detail you can choose who will get extra bonus and who needs extra training.
Put them in shifts, see how well they work together or just find out who is selling on the side.
Performance recommendations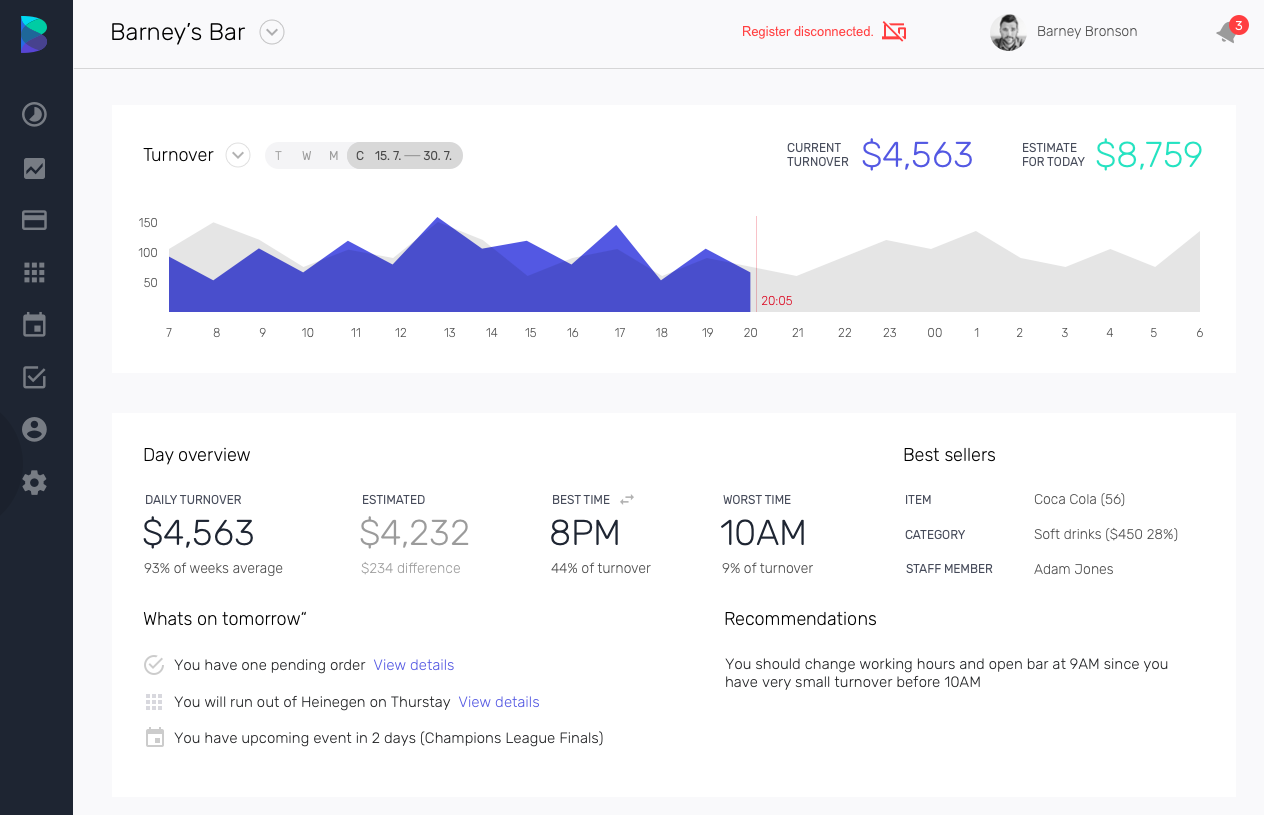 For each day you will get our summary. Best and worst hours, top performers, best staff member, your target profit and much more.
Based on that we will provide you with recommendations to optimize your business. From simple facts that everybody know, but you might overlooked, to more complex things than you had to dive deep into data to dig out. You will see all that on your dashboard. Simple glance and you will know what you have to do.
Custom alerts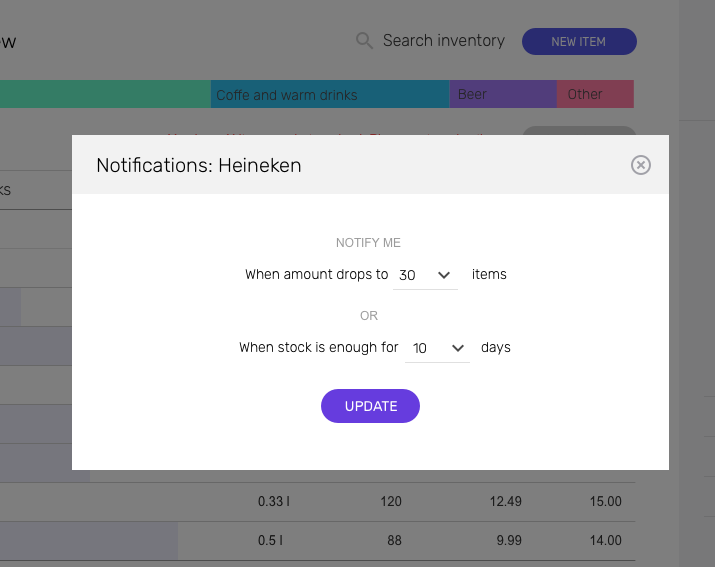 Set alerts for each item and get notified well before you get in a position to be out of stock. Get notified when something out of ordinary happens. A big spike in turnover, a performance issue with a member of the staff or this new vine you put in was a spectacular success.
Get them in app, on your phone as push notification or just a simple email. Your choice.
User control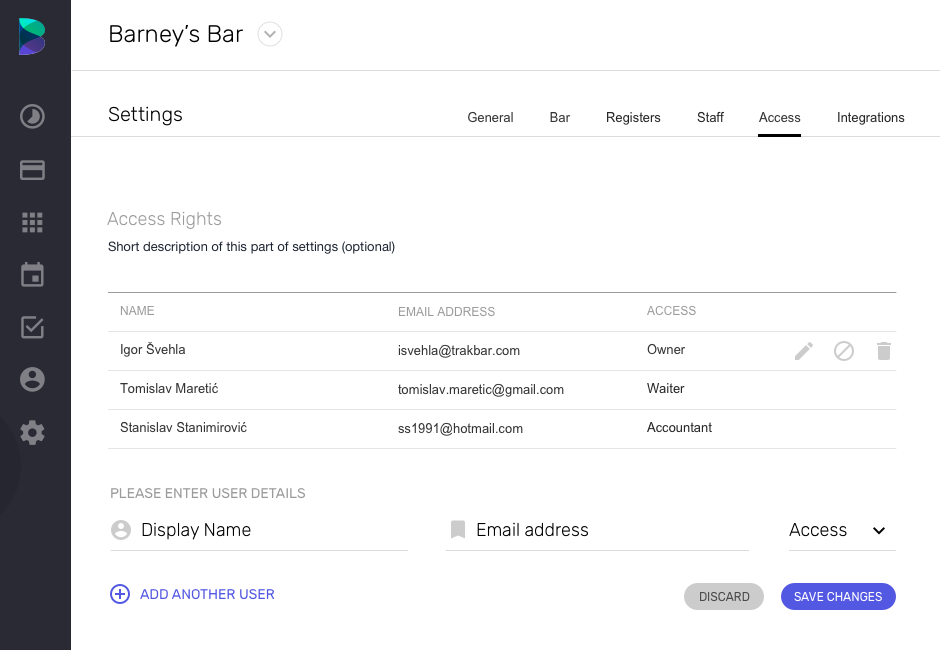 Fine tune what your manager can see. Want to allow accountant only to put in expenses and utilities bill? You can do that. Add users and customise their access rights as you see fit.